Puka Puka Gallery
43 Hana Hwy • Pa'ia HI 96779
tel: 808 579 3080 • www.pukapuka.tv
The gallery in 1946 after the big Tsunami
.

The gallery as it is today.
Puka Puka is owned by Jenna and Emmanuel de Buretel. Puka Puka presents jewelry, fashion, interior as well as fine art and limited edition prints. Jenna is John Severson's eldest daughter also known as Jenna de Rosnay. Puka Puka is managed by Jenna's daughter, Alize de Rosnay, and her boyfriend Nathan Howe.
MAUI SHAPERS:
August 6 – December 31 2011
Several of the most important waves in the Hawaiian Islands, and indeed the entire world, are found in Maui. Maalaea is arguably the fastest surfable wave, Honolua Bay one of the five most perfectly shaped, and Jaws one of the biggest rideable waves, in the world. This distinction has put Maui at the forefront in the international evolution of surfboard design. Maui's custom board shapers lead in this process as designs continually change and improve increment by increment, board by board.
The need for boards that allow greater performance under demanding conditions has created a local culture of highly skilled artists who have devoted their lives to the ultimate ride. Exceptional surfboards are sculptures that perform. They are an actualized form of hydrodynamic mathematics produced by hand and eye coordination and extreme amounts of water time. To a custom shaper, each board becomes an intuitive production with experience draining out through the hands.
The surfboard in Hawaii has a deep and spiritual history. The Hawaiian surfer/shaper building a Koa Alaia would seek out a special Koa tree to commune with its Mana – supernatural power – before deciding to use it. In this modern era of mass produced popout boards, the custom shaper is an increasingly rare breed of artisan who continues to respect the importance of carrying on the Hawaiian tradition of constructing sacred craft.
PUKA PUKA PRESENTS MAUI SHAPERS, a survey of twenty custom surfboard shapers including Alex Aguera ( Alex Aguera Design ), Ed Angulo ( Angulo Design ), Mark Angulo ( Angulo Custom ), Wayno Cochran ( Maui Surfboards ), Brent Edwards ( Maui Skimmers ), Reinhard Elischka ( Hawaiian Kiteboards ), David Gott ( David Gott Skateboards ), Karl Hill ( KH ), Duane Ignacio ( DI Surfing ), Bill Foote ( Foote Surfboards ), Jimmy Lewis, Neal Norris ( Valley Isle Surfboards ), Bob Olson ( Ole Surfboards ), Sean Ordonez ( S.O.S ), Tom Parrish ( Parrish Hawaiian Designs ), Ryan Quigless ( Arclight Woods ), Charlie Smith ( Charlie Smith Design ), Matt Smith ( Maui Shapes ), Keith Teboul ( Quatro International ), Jeff Timpone ( Timpone Surfboards ).
The survey will include works by David Darling, Richard Fields, Harlan Hughes, John Severson and Joana Varawa.
Exhibition poster on recycled paper
( with shaper/ artist names ) $10
Exhibition t shirt and tank ( hand screened color blend with shaper / artist names ) $30
Gallery Hours: Monday – Saturday, 10 AM – 6 PM, or by appointment.
43 Hana Hwy
Pa'ia HI 96779
tel: 808 579 3080
fax: 808 579 3081
info@pukapuka.tv
www.pukapuka.tv
The Gallery is the creation of the de Buretel family–Emmanuel and Jenna with their daughter Alize' de Rosnay. It is designed to showcase the family arts:
Jenna–bathing suits, Louise and Anna Severson–screenprints and art. The gallery is currently showing John Severson paintings, photos, block prints and posters.
For more information: (808) 579-3080.
43 HANA HWY IN PAIA, MAUI (FIRST SHOP ON THE LEFT, DRIVING FROM KAHULUI).
Current One Man Show
at the Surf Gallery in Biarritz
Now through the end of the year.
By Woodstock -France.
44 rue Luis Mariano – 64200 Biarritz
Ph: +33 (0) 535466601
Biarritz News Visit website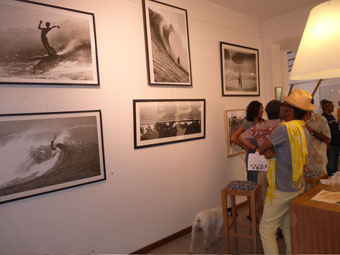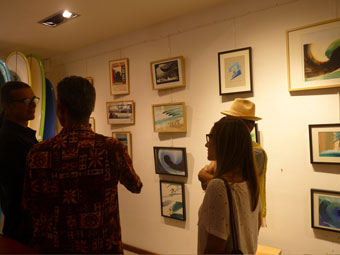 Previous Shows: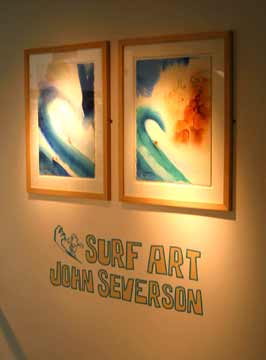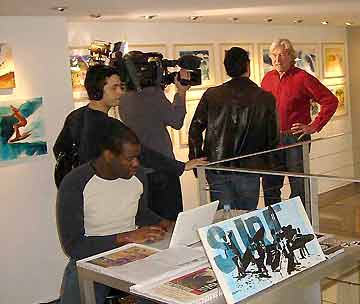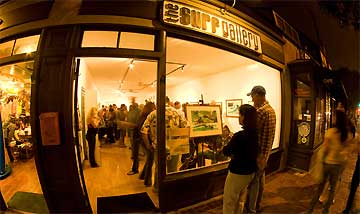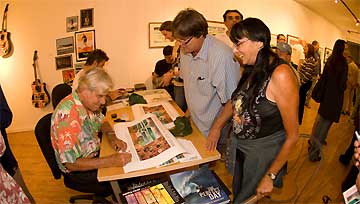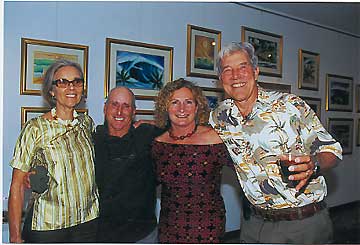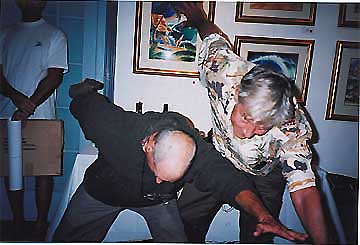 (L to R) Louise Severson, Mickey Munoz, Jericho Poppler, John Severson.
Mickey and John relive the Quasimodo.
More Galleries:
Additional outlets for John Severson art: posters, prints, and watercolors.
Puka Puka Gallery
43 Hana Hwy.
Paia, Maui, HI 96779
Ph: (808) 579-3080
info@pukapuka.tv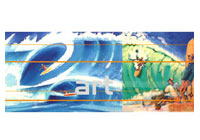 Driftwood Gallery
2 Central Sq., Town Centre, Newquay TR7 1EX, UK
Ph: 01637 839088
Visit the website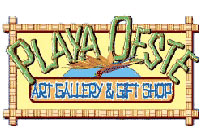 Playa Oeste
Located on the Northwest corner of Puerto Rico in Rincon.
Visit website.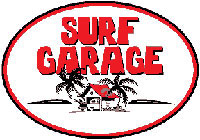 Surf Garage
2716-2 S. King St.
Honolulu, Oahu, HI, 96826
Ph: (808) 951-1173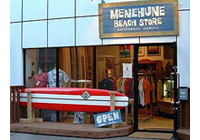 Menehune Beach Store
2-2-5 102 Haramachida Machida Tokyo, Japan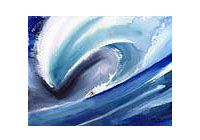 Hillcrest Galleries
Southern California.
BY APPOINTMENT:
1-800 248-8057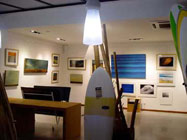 The Surf Gallery
By Woodstock -France.
44 rue Luis Mariano – 64200 Biarritz
Ph: +33 (0) 535466601
Visit website.